Quick Links
Who doesn't love pizza at a party? You can never go wrong with a pepperoni or cheese pizza at a party — adults love it, and kids beg for it. But how do you keep pizza warm throughout your event? In this post, we'll travel with your pizza and provide tips on how to keep it warm from the first moment you pick it up to the last minute your guests leave. As a bonus, some of these suggestions make great ways to heat up the pizza for tomorrow's leftovers!
1. On Your Way Home
Our journey starts at the restaurant. If you choose to have your pizza delivered, you can skip this step. Otherwise, a tip on how to keep your pizza warm while traveling is to use a heated seat.
Though heated seats are typically used for keeping you warm during the colder months, they work great at keeping your pizza warm, too. On your way home, put your pizza on a heated seat and cover it with a blanket to trap the warmth. If you don't have heated seats, put the pizza on the passenger side floor and crank up the heat in the floor vents. It may sound comical, but whatever works, right?
2. Indoors
Once your pizza has safely made it to your home, your next goal is to keep it warm throughout the duration of your party. Some tips on how to keep your pizza warm for three or more hours at your party include:
In Aluminum Foil
If you're still waiting for guests to arrive, start plating your portions. Wrap each slice in aluminum foil so the pizza can hold its heat. If the slices get cold by the time your guests arrive, pop the pizza — still wrapped in foil — into the oven at 400 degrees for around 5 minutes to 10 minutes. After it's heated, remove the aluminum foil and serve the pizza to your guests.
In Your Oven
Most people rely on their ovens to reheat pizza. There are two ways you can keep your pizza warm in the oven:
In the box: Don't panic! Pizza boxes won't catch fire until they reach over 400 degrees. For this method, set your oven at the lowest temperature and slide your pizza, still in its box, onto the middle rack. If you're short on time, you can crank the heat up a bit.
Out of the box: This method works best if your pizza is cooler and you want to reheat it, rather than trying to keep it warm. Preheat your oven to about 350 degrees and place your pizza directly onto the middle rack. The higher temperature will keep your crust crispy and any sauces or toppings warm.
You can use a toaster oven, too, if your oven is full of other party snacks. Follow the same principles of heating your pizza at a higher temperature for a shorter amount of time, and your pizza will turn out perfect every time.
In a Frying Pan
Are you running out of space in your oven and toaster oven? If so, try heating up your pizza in the frying pan. This method isn't ideal if you're heating up whole pizzas at a time, but it does work well when reviving the last few slices from your event.
On your stovetop, heat a non-stick frying pan on high heat. Once heated, place your pizza in the frying pan and let it heat up for about two minutes. These two minutes will allow the bottom of the pizza to get nice and crispy. Then, place a lid over the pan and continue heating for another minute or two, allowing for the cheese, sauce and toppings to warm.
In the Microwave
Running out of stovetop space, too? In a quick pinch? Use your trusted microwave. Make sure your microwave is wide enough for your pizza slices. Then, place your pizza on a microwave-safe plate. Separately, fill a shallow, microwave-safe bowl 2/3 full of water. Place the bowl inside the center of your microwave, and place your plate of pizza on top of the bowl.
The water inside of the bowl will evaporate and prevent the pizza from getting soft and mushy. Microwave your pizza at half power for about a minute. Check your pizza, and microwave for another minute or two if needed.
3. Outdoors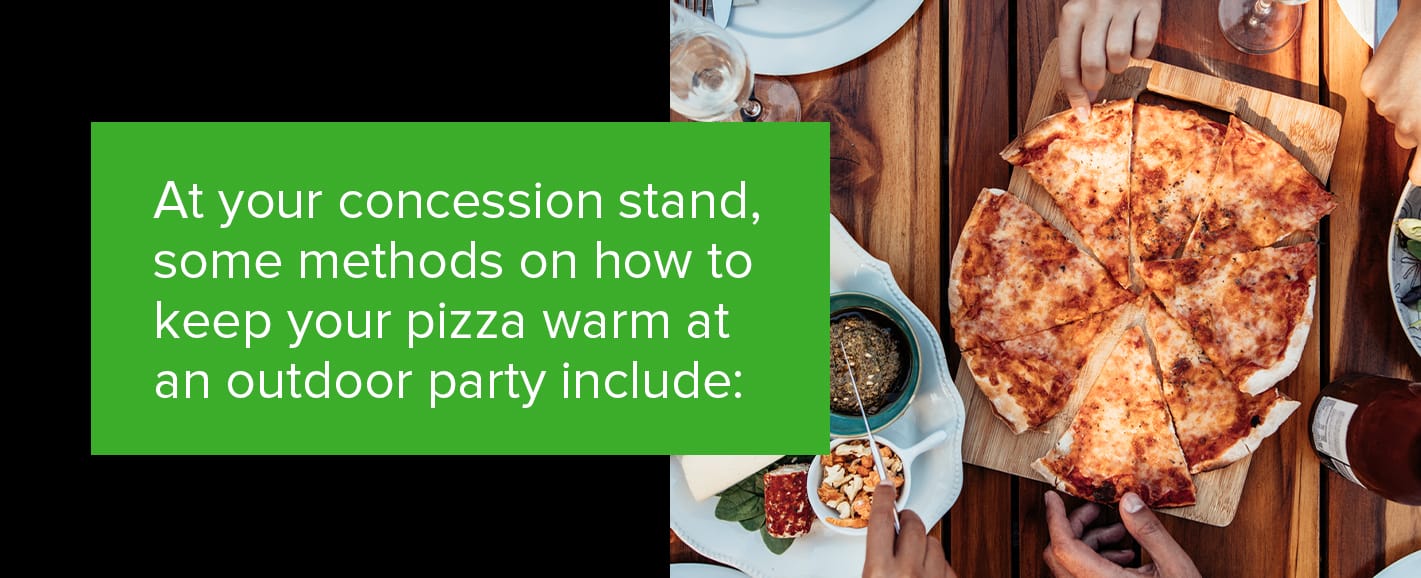 Hosting an outdoor event can be a bit more tricky when it comes to keeping your pizza warm. At your concession stand, some methods on how to keep your pizza warm at an outdoor party include:
In a Portable Oven
On your concession table, keep your pizza warm by using a portable oven. You can easily find a portable oven online, and most aren't too expensive. Portable ovens look like a large lunchbox that heats up. Place your pizza inside of the portable oven to keep it warm, or turn up the heat and leave them in longer when reheating slices. The instructions may vary depending on the portable oven you buy.
In an Insulated Bag
While guests are enjoying the beginning of your party or event, keep pizzas warm by storing them in an insulated bag. This is actually how most pizza delivery companies keep their pizzas warm during the ride to your home or business. You can find pizza-specific insulated bags online. They may not be able to keep your pizza warm for three hours, though, so this method is best combined with other heating methods.
Hosting an Event in the Larger Metro-Detroit Area? Choose Green Lantern Pizza
Are you hosting an event soon? We may be biased, but we believe pizza is the best cuisine to serve! After all, who doesn't love a fresh slice of pepperoni pizza? When you're choosing a pizza place, opt for Green Lantern Pizza. We've been in the business since 1955, and we're proud to hold the title of King of Pepperoni.
Browse our location finder to find the nearest Green Lantern Pizza location, and order straight from our online menu. Have any questions? Contact us online or give your location a call today!