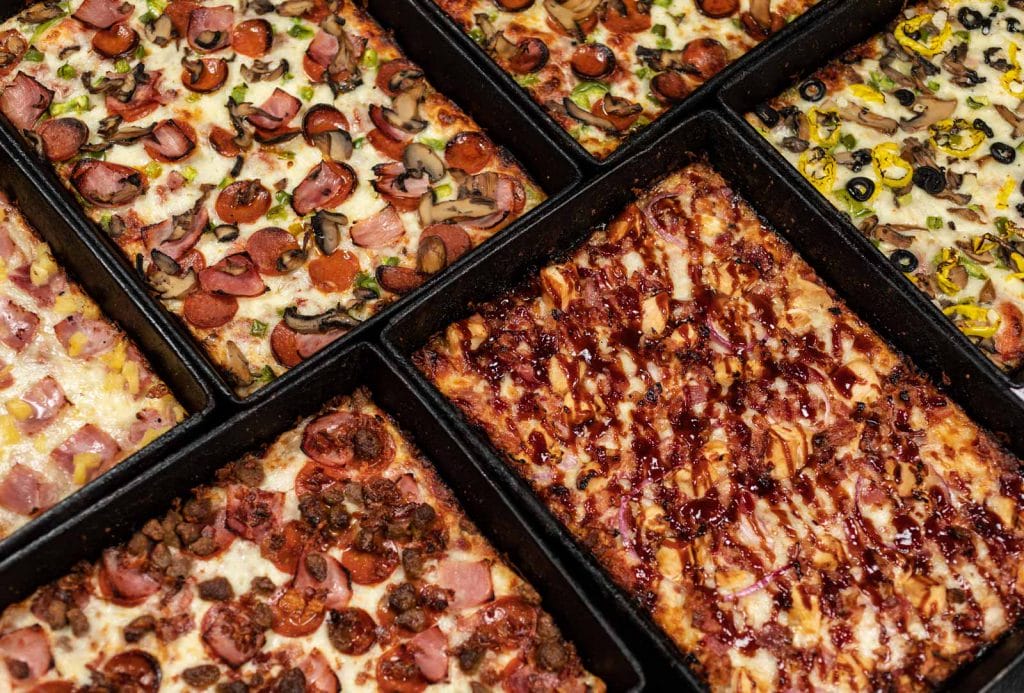 Quick Navigation
Everybody that you can think of loves pizza, it is an American staple that you just cannot go wrong with. Traditional thin crust pizza is absolutely delicious in and of itself. It oozes with cheese and is topped off with the delicious toppings of your choice to make it even better. But, as good as thin-crust pizza is, there is another type of pizza out there that takes it from good to absolutely mouthwatering.

Detroit deep dish pizza takes the pizza game to a whole new level. It gives the person eating it layer after layer of goodness to sink their teeth into and it just gets better with every bite. There are also so many types of Detroit deep dish pizza out there that there is a kind for everyone to love. Below are some of the most popular fillings that you can get that make the Detroit deep dish pizza the best you ever tasted! Get a napkin before reading because this list is sure to make your mouth drool.
Under the sauce toppings

For a pizza that is seriously unconventional put the pizza fillings on the pizza in a lasagna type order where what would usually be the toppings are actually sandwiched between the pizza sauce. To do this you would put down the first layer of sauce, then add your toppings and cheese of choice, and then put another layer of delicious sauce on top of that for an extra dose of delicious sauce.
Detroit deep dish pizza Hawaiian style pizza

If you are in the mood for a deep-dish pizza but are maybe burnt out on all the usual toppings and sauces or if you just want to be adventurous and try something new, then the Hawaiian fillings for a deep-dish pizza is a great route to go. This pizza is filled with extra cheese, fresh pineapples, ham, bacon, green and red peppers, and red onions, all smothered in a sweet barbecue marinara sauce. It gives you a little bit of a sweet tang while really putting a spin on a classic pizza. Definitely the kind of filling that the whole family will love.
Whole wheat deep-dish pizza dough

Whole wheat pizza is something new to the pizza game entirely, and especially for deep-dish pizzas. If you are trying to watch what you eat or are staying away from gluten and white flour, then whole wheat filled dough is a healthier option that still tastes just as great as regular deep-dish pizza dough does.
Throw some unconventional veggies on top of that cheese

Instead of having a traditional deep-dish pizza, change it up altogether and fill the crust with a deep-dish quiche that is a perfect option for things like breakfast or brunch so you can get a pizza fix early in the morning without feeling guilty about it. Fill the deep-dish dough with your quiche batter then throw in your favorite quiche toppings like leeks, spinach, tomatoes, olives, onions, or other fresh vegetables that make the quiche play up all sorts of flavors in your mouth with every bite you take.
Chicago-Style pizza

A Chicago pizza takes a traditional pizza and really takes it up to the next level. This type of pizza like it is found at Green Lantern Pizza has filled the deep-dish dough with extra cheese so that each bite you take literally fills your mouth with a medley of cheeses. It is then filled with a sauce that instead of being traditional is more of a hefty meat sauce that plays with the flavors that you taste. There are more meat and cheese in this type of deep-dish pizza than any other.
Deep-dish pizza filled with chili and cheese
Some of the most popular foods across the board in America are pizzas and chili. Almost everyone loves both of them, so why not take it up a notch and combine the two favorites together. You can have this type of pizza by filling the dough with a ton of cheese, then on top of that layer of cheese, putting down a solid layer of just ground beef, and finally topping the pizza off by filling the rest of it up with chili and finally topping it off with a final layer of cheese on top and adding some scallions and black olives for additional taste based on your likes!

Not only is this a great pizza to cut and eat like pizza, but it also functions as a great chip dip. Once you stick it in the oven and bake it, you can get some nacho chips and dip it right into the pizza fillings for a hearty snack or even as a meal. If you are a person who loves cheese and meat, then this is a great pizza that ties all of those things together.
Fresh spinach, tomatoes, and mozzarella cheese
This pizza will help you fulfill your craving for a deep-dish pizza that has a soft and buttery crust with fillings that are as delicious and fresh as they are healthy. This is a fairly straight-forward filled pizza without any crazy ingredients. To make it, all you need to do is put down a thick layer of fresh mozzarella slices, top it with basil, olive oil, fresh spinach, grape tomatoes, and large sliced tomatoes, and garlic. Then, you top that with a hearty layer of parmesan cheese and more grated mozzarella cheese on top with a sprinkle of extra olive oil.

It will satisfy your taste for a yummy cheesy pizza while also not being too heavy or weighing you down like traditional pizzas seem to do all too often. There are so many vegetables and so much cheese that you are not missing out on anything, only enjoying every cheesy bite. It is a warm, comforting, unique, and easy deep-dish veggie-filled pizza to make that the entire family will enjoy from the youngest to the oldest member of the family and will be requested again and again.
Deep-dish taco pizza
A taco pizza is one that you may have never heard of before. If you are looking for an unconventional deep-dish pizza filled with all of the most unique fillings, then this is the one that you should get. This Mexican-inspired pizza is not only full of delicious layers, but it is also friendly to the waistline as it is not packed full of needless calories and fats that the body does not need.
Even kids love this fun-filled deep-dish Mexican pizza because of all the fun layers and flavors that you get in every bite. This pizza is filled with ground beef, cheese, taco seasonings, olives, red or black beans, onions, and spices, then topped with your favorite taco toppings like sour cream, extra cheese, tomatoes, guacamole, etc. it is a savory and spicy treat that plays with your tongue in ways you never expected.

If you are looking for a pizza that is inspired by another culture and is secretly a healthy meal for you and the family, this taco-filled deep-dish pizza is the one to make and it will be enjoyed by all. Also note that you can put additional twists to every individual slice by adding more heat with different peppers, or keeping it plain and still getting a delicious pizza. You can truly make each slice your own creation!
Pretzel crust deep-dish pizza
If you are like a majority of people who eat pizza, you like all the traditional fillings to stay the same, because you just cannot mess up something that has already been perfected. So, if you prefer to keep your fillings traditional and have your basic cheese, pepperoni, sauce, and maybe meats, there are still ways you can find to put a twist on your deep-dish pizza. Instead of changing the fillings, change the dough!

You can add a new dimension to a deep-dish pizza by making the crust a pretzel crust. Pretzels are extra-thick, salty, buttery, and soft. It adds a new flavor you never thought of before and truly makes the fillings stand out and pop even more. The deep-dish pretzel crust takes a traditionally filled pizza and knocks it out of the park!
The loaded down pizza
If having only a few ingredients in your deep-dish pizza is just not cutting it and you feel as though something is still missing when you take a bite, then the loaded deep-dish pizza may be the one that is calling out to you. For this pizza, you will start by laying down a thin layer of sauce, then filling it with every topping you can think of. It will have all the meats, extra cheese, any vegetables that are speaking to you, and did I mention extra cheese? Bite into this filled to the brim with pizza and get an explosion of flavors in your mouth that will satisfy even the hungriest of appetites!
There is so much that you can do with a deep-dish pizza! If you are looking for deep-dish pizza that is unique and better than the best you can visit Green Lantern Pizza, this is the place to go to find a deep-dish filled with all your favorite flavors and toppings!